This week's Wardrobe Wednesday is brought to you by ME!!
Is there anything better than your child all clean and dressed in their cozy pajamas? Well…okay maybe a few things. But for me, this ranks way up there! I've always thought it would be fun to do a PJ session with some kids in bed. I've done plenty of sessions and none of them have been in PJs. I decided it was time, so I dressed my kids in their new Christmas PJs and shot away! They had so much fun jumping on the bed, laughing and rolling around. AND the images are so cozy and natural. I simply LOVE IT.
Recently, I've discovered Hanna Andersson. They carry such cute and colorful things for children and adults. They have a huge variety and often run great sales. The best part? Their clothing is WELL MADE. To me, this is a mega BONUS. This past summer, I bought my kids some PJs from their organic cotton line (these PJs are fitted and NOT flame retardant which was important to me). They are soft, comfortable, warm, and best of all, they REALLY hold up after many washes! SUPER durable. I bought them 2 sizes too big so my kids will have them for another year or so (you can just roll up the cuffs on the arms and legs).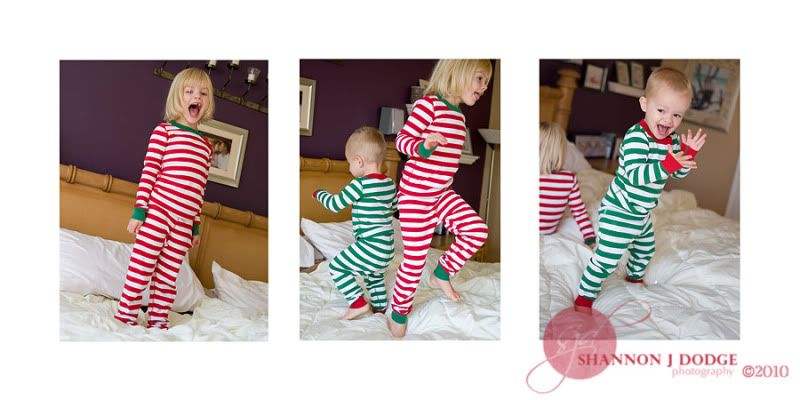 Check out the cute variety of pajamas they carry. Adult pajamas to baby pajamas! They even have family looks so you can coordinate or match with the entire family. Don't forget the details! Hanna Andersson carrie adorable plush animals, blankets, sleep sacks, and other bedtime related items. Their slippers are to die for! Remember all of the details that make your custom photos special!
NOTE: they are having a huge sale right now so some items may not be available at this time!


SHOPPING GUIDE
**all items are from Hanna Andersson
Organic Cotton Long Johns
Striposaurus
$28.00
Fleecy Friends Slipper Boots
$28.00
Dreamy Nightgowns
White/Red Snowflakes Print
$20.00
Short Johns in Organic Cotton
Navy/Heather Gray
$26.00
Night Night Baby Sleepers in Pure Organic Cotton
Life on the Farm Print
$25.00
Crossover Long Johns in Organic Cotton
Pink Multi
$28.00
Slipper Booties
Pink Garden (appear to be sold out…also come in brown)
$15.00
Jellycat Cordy Roy Cat
$22.00
Truffle Sheep
$22.00
There will be LOTS of big changes with SJD Photography in the upcoming year…I can't wait to share them all with you! Stay tuned and MERRY CHRISTMAS/HAPPY HOLIDAYS to everybody!!!
xo