OH there's a shout out to me in this post! Read on as Rebecca, of Rebecca Keeling Studios, outlines what a photographer should wear to shoot weddings! (perhaps she'll do a little series on this? i.e. what to wear to the family photo shoot? hint hint)
I was so excited when Shannon posted a request for feedback for suggestions on upcoming posts the other week. She did a fabulous job last week with the extended family wardrobe and I wanted to follow that up with the other request specifically for our fabulous photographer followers! I actually thought about doing a post several months ago about photographer wardrobe suggestions but I had totally forgotten about it, so thanks for the reminder, y'all!

Being knee-deep in wedding season myself, I thought it would be a great idea to start this series of photographer wardrobe suggestions with…well…weddings! In considering the overall wardrobe, it seemed only natural to break down each part and discuss them individually because they all play an integral part in the grand scheme of things. So let's jump right in, shall we??!!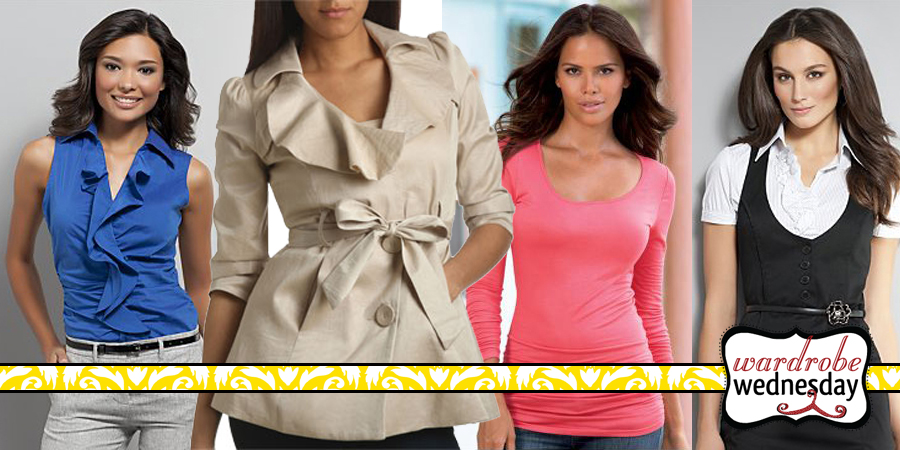 When shopping for tops for the wedding day, I always look for comfort first. Stretchy fabrics, designs that hide my "flaws" so that I look my best, and most importantly on hot summer days, breathable materials. The blue tank blouse shown here is a great combination of all of these things. A cotton blend material, ruching around the middle, sleeveless to give you some breathing room, AND…a side zip instead of a button front. For me personally, I have a larger chest area and can't really get away with button front blouses without being paranoid that at any moment the girls might turn me into the main attraction! So, the side zip option on some modern blouses is always helpful! A great little jacket is one way to layer stylishly for evening weddings when it gets chilly. Again, in a great linen blend material. I actually own this black vest and wear it quite a bit with a simple cotton shirt, similar to the one shown here. I love the professional look it gives me while still being lightweight and very comfortable. Although I typically do wear dark pants with my black vest, I think it's fun to throw a pop of color under the vest with a cute little cotton shirt of choice. The great thing about all of these tops is that you could mix and match them for many different combinations of looks. The tank with the vest, the t-shirt with the jacket, and vice versa. I always shop with this in mind so that I get more "bang for my buck" and have lots of different options when dressing for the wedding day.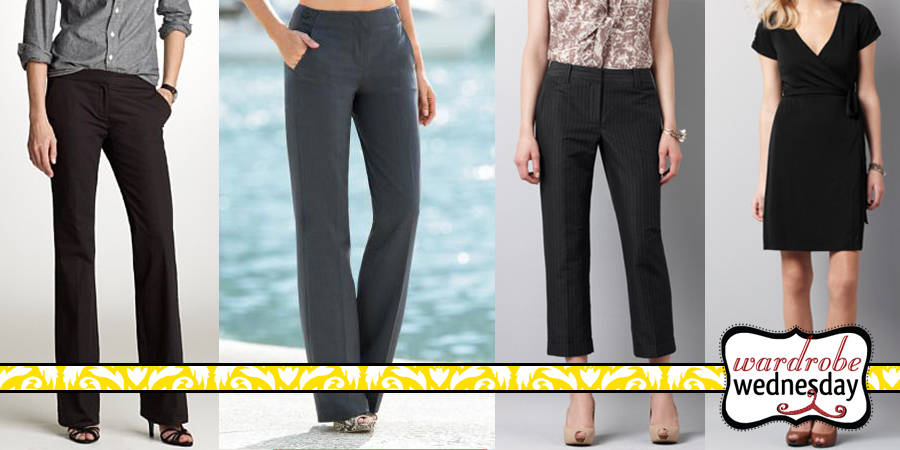 One of the features I absolutely MUST have in any bottoms that I purchase for the wedding day is STRETCH! I don't know about y'all, but it's not unusual for me to be on the floor, on a chair, or anywhere in between trying to get THE shot, and I certainly don't want to be hindered by my pants…or (for the love of everything holy) have them split down the back! I also prefer to have pants with pockets to hold a spare memory card when I'm running around. And, I also love to have flat front closures…they just seem to be more comfortable overall. Here are some great pants options along with a pair of pin-striped capris for those warmer, outdoor weddings where you still need to look nice. Pair these with the cotton shirt and vest and voila! A super cute (and FUNCTIONAL) wedding day wardrobe. For those weddings where you need to dress a bit more formally, here is a perfect stretch cotton wrap dress. Be sure to pair these with some short black leggings so that you can still get the shots without worrying about flashing your bride and groom!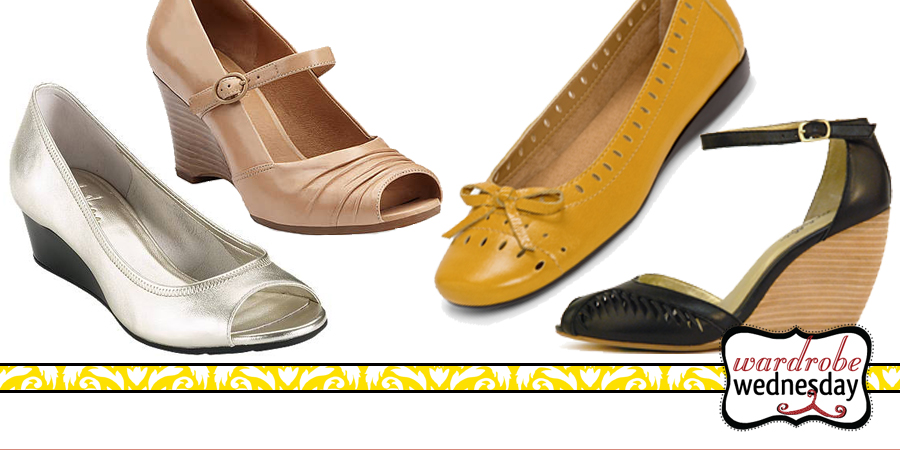 Next on our list, and arguably the MOST important part of your wedding day wardrobe…shoes! All of these brands have come highly recommended by some of my wedding photographer colleagues, so I hope that one of them will be perfect for you. I typically prefer to wear flats on the wedding day but if I were to shoot a very formal event, I would consider wearing a higher heel for the ceremony and then changing into more "sensible" shoes for the reception. The wedge design of these two shoes in particular makes them much more comfortable than the traditional high-heeled shoe to start with, but they are also rumored to be even MORE comfy. Be sure to check out the links for these particular suggestions…the Cole Haan shoe has Nike Air technology embedded into the sole and they have a complete line of "Air" shoes with this same comfort technology. They are a little pricey but then again, so are Nike Air tennis shoes. I know what's on my list to purchase next!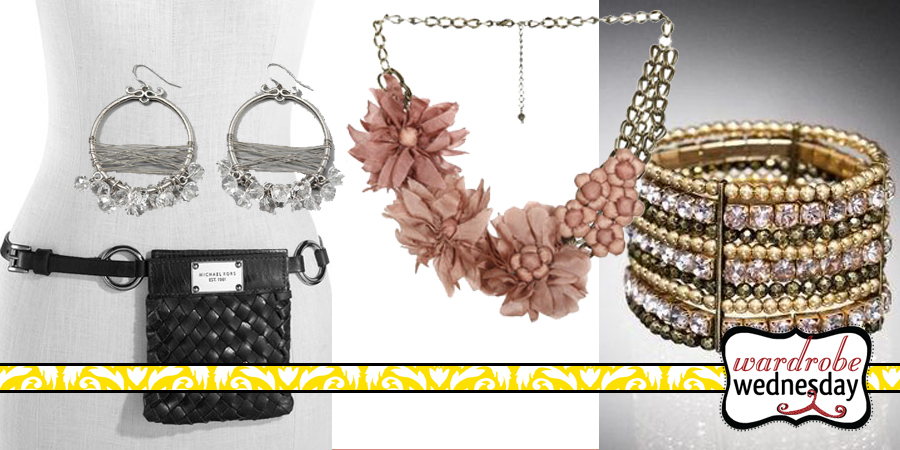 Last, but certainly not least, the most fun part of your wardrobe…accessories! As I mentioned earlier, I do tend to stick with darker color clothes when dressing for a wedding but not when it comes to my accessories. This is where I let my personality really shine through. I love to choose one large piece of jewelry, a statement piece, and then go smaller with the other items. Such as this fabulous necklace, I might pair with small diamond stud earrings. Or this gorgeous bracelet (with no bangles, I might add…don't want to be jangling around in the back of the church during the silent prayer!) with a small, understated ring. And check out this super cool Michael Kors belt! It's not your momma's fanny pack! It's big enough to hold extra cards, batteries, lip gloss, your phone, or whatever you need to keep on you at all times and still look FAB.
I wanted to leave you with a few other items that are a "must have" for the wedding day so that you can be successful AND stylish…and rock those shots!
1. A few weeks ago, I had the brilliant idea to purchase a new pair of shoes and wear them to a wedding the same day. Let me just say that I wish I'd had these little babies stuck in my bag that night. Perfect for your aching dogs after a long day, yet still stylish enough to pull off at a late night reception!
2. A change of clothes…you never know what might happen and you always want to be prepared!
3. A little beauty bag with some back-up cosmetics, deodorant, extra girly items, and perfume…for those days when you need to get freshened up after sweating your bootie off at the 104 degree July wedding with no shade.

So that's it! I hope this list will have you on your way to wedding wardrobe success. Happy shooting, y'all!
BUYING GUIDE
(Shoes)
Cole Haan Air Tali OT Wedge | $158
Clarks Domino Pip Beige Leather | $95
Seychelles Chirp | $90
Aerosoles Laser Printz Yellow | $60
(Bottoms)
J Crew Premium Stretch Bistro Pant | $88
Boston Proper Paris Fit Classic Trouser | $89
Ann Taylor Loft Ann Olivia Stripe Cropped Pants | $60
Ann Taylor Loft Knit Wrap Dress | $70
(Tops)
New York & Company Ruffle-Front Sleeveless Solid Shirt | $30
Arden B Ruffle Collar Trench Coat | $69
New York & Company Five Button V-Neck Vest | $40
(Accessories)
Nordstrom Michael Kors Leather Belt with Woven Bag | $68
Chicos Tansy Earrings | $16
Arden B Flower Cluster Necklace | $34
Express Beaded Stretch Bracelet | $35