This week's post is appropriate for 2 reasons: 1. it's the middle of summer 2. I am located in Southwest Florida and many of my family sessions take place near the water. Morgan of Morgan Dawson Photography did a fantastic job with this week's theme!
"Today it's about comfort, and realistic summer fashion.
When I was a kid, I was lucky enough to live in a place where I could literally swim every single day in the summer. My wardrobe consisted of bathing suit + something over it + flip-flops or sandals. Not a bad way to spend the summer, right? When I return to the lake, I pretty much go right back to my usual routine – and love every second of it.
This is how I spend my summer. This is how I'd want to remember the summer.
I decided to put together a family wardrobe that could be worn by – or even IN – the water. Be it a lake, pool, ocean — wherever! If it's hot, no-one wants to stand and pose for photos on a warm, sunny day. Why fight it?
Document the way you really live this summer. Maybe you're sitting by the edge of the pool playing with your kids. Maybe you're walking along the beach or skipping stones in a lake. The best family portraits are the ones that capture how you truly spent your summers – not some invented scenario.
Now, don't get me wrong. You may be able to grab the family and get some shots together, but if the kids get itchin' for a jump in the water – go for it. My advice – don't wear anything that can't get wet…just in case someone gets pushed in

Happy summer!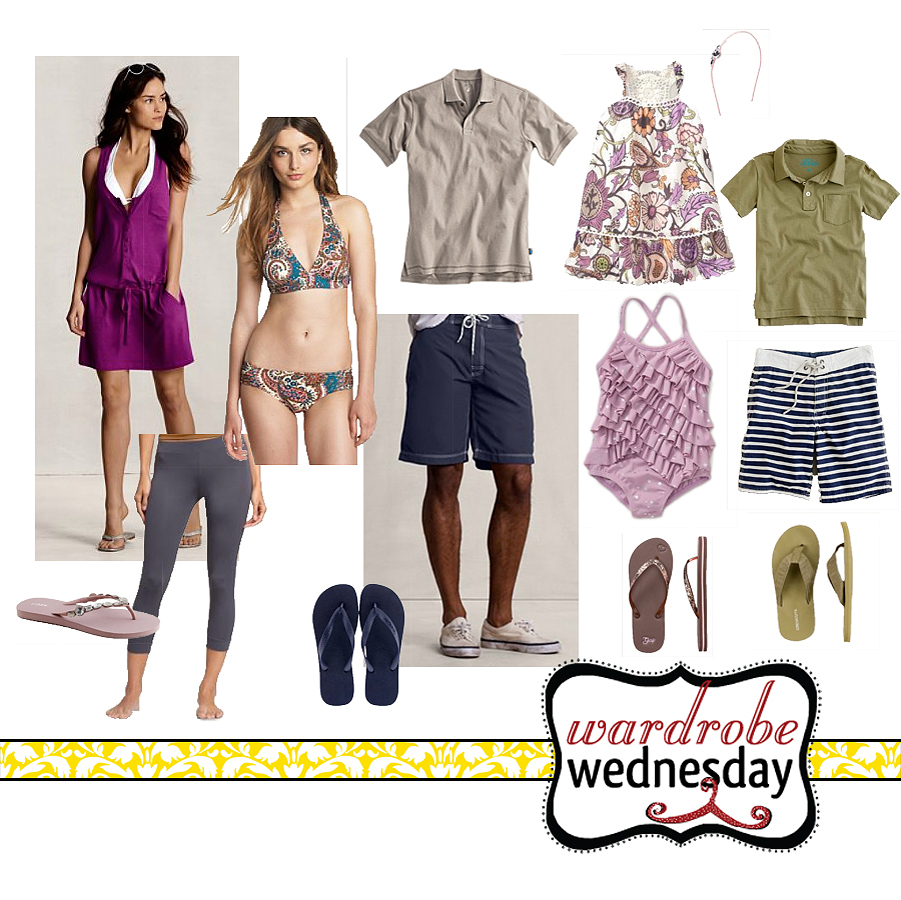 SHOPPING GUIDE
Mom:
For mom, I went with a comfortable cover-up you could throw over any swimsuit. If you want, you can always put on a pair of leggings if you want to have your legs covered, or maybe a tank instead of a swimsuit. Don't forget to add some earrings and maybe a bracelet. A hat should be on hand in case it's windy – or you decide to go swimming mid-shoot

Women's Sleeveless Beach Cover-up – $11.99 Lands End Canvas
Playa Paisley Wide-Band Halter Top – $38.40 J.Crew
Pure Body Cropped Leggings – $29.95 Gap
Faceted Jewel Flip-Flops – $19.50 J.Crew
Dad:
For dad I stuck with basic swim trunks, flip-flops and a breathable, moisture-wicking shirt.
Dri Duck Apex Polo – $28.99 Dicks Sporting Goods
Swim Board Shorts – $34.50 Lands End Canvas
Havaianas Mens Top Flip-Flop – $18.00 Piperlime
Little Girl:
For the little girl, I picked out an adorable swimsuit, glittery flip-flops and a matching sundress to throw over the suit if you'd like.
Star Ruffle One-Piece – $24.95 Gap Kids
Floral Crochet Dress – $29.99 Gap Kids
Jeweled Ribbon Headband – $7.95 Gap Kids
Giltter Flip-Flops – $8.85 Gap Kids
Little Boy:
The little boy has some casual vintage-inspired swim trunks, flip-flops and coordinating green shirt.
Boys' Jitney-Stripe Board Short – $31.50 J.Crew Crew Cuts
Boys' Jersey Polo – $16.99 J.Crew Crew Cuts
Boys' Solid Cotton Flip-Flops – $14.50 J.Crew Crew Cuts
I hope this inspires you for your up and coming session. For more inspiration, please visit Wardrobe Wednesday on Facebook!