Something a little different this week, brought to you by the multi talented Morgan Dawson of Morgan Dawson Photography!
Here's what she has put together!
There is just not enough time left in the shopping season to be anything but honest and straightforward, so here goes: This is the kind of stuff I would want as a photographer, and I think it can help you, too. If you're a photographer, you can send a link to this post to friends or family who need gift ideas. If you need to get a gift for a photographer or shutterbug, you've come to the right place. Here we go…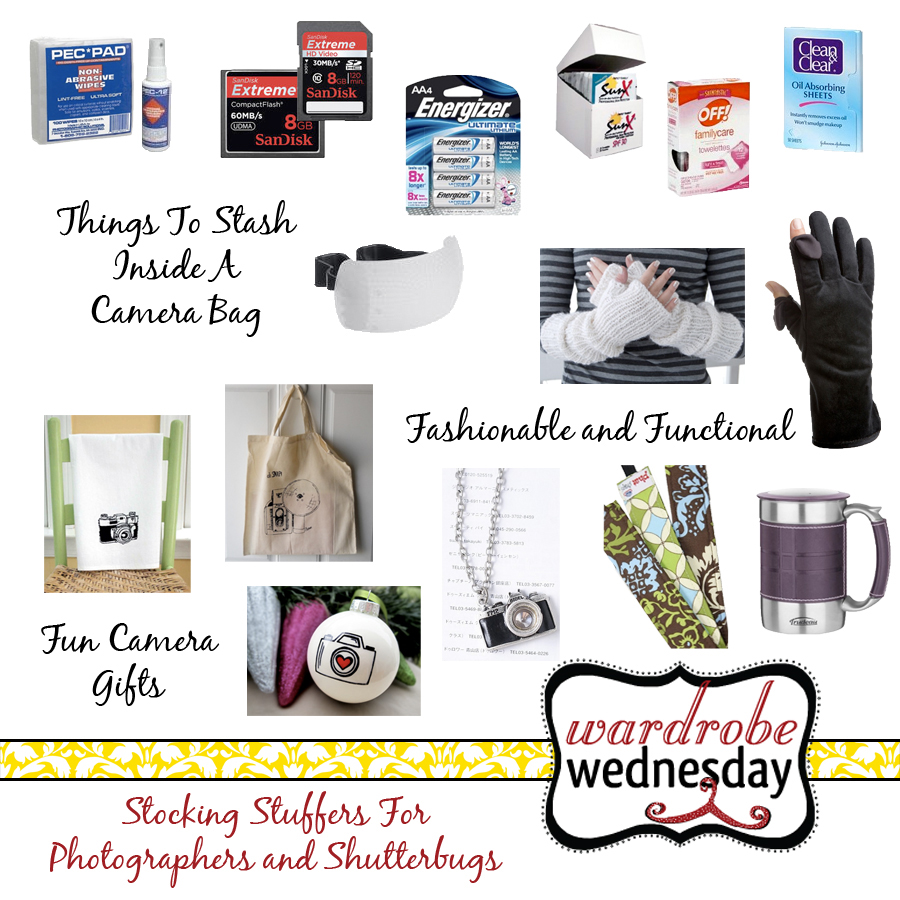 THINGS TO STASH INSIDE A CAMERA BAG:
Memory Cards: Photographers really can never have too many of these. When buying them, just be sure you know what format your photog uses. Compact Flash and SD are the most common, but double check since you never know. My personal collection includes a bunch of SanDisk 8GB compact flash cards, but I wouldn't turn down a larger size (who would?). These can be purchased at so many different stores, so be sure to compare prices.
Batteries: When I asked the other WW girls about their stocking stuffer wish list, batteries were the first things mentioned. Flashes and other gear will burn through these puppies in no time – extras are a must!
Lens Cleaner: What happens when mud gets on a lens? Smudges or sticky kid fingers? This two step solution will easily fix the day. All you need to do is use a few drops of the solution and then use the pads to wipe it away. Easy!
Pop-Up Flash Diffuser: If your photog has a camera with a pop-up flash, this is a great gift idea. While the flash is easy and convenient, the light is often harsh and less than flattering. The best way to even out the light is by diffusing it somehow, and this puffer couldn't be easier. It slides over the flash and automatically diffuses the light – awesome!
Towelettes and Wipes: These little wipes are such a lifesaver for both the photographer and their clients. Large bottles of sunscreen or insect repellent aren't likely to make their way into a camera bag, but there is always room to stash a few of these. If the model – or photographer – start to get a little shiny, the blotter papers can be a great fix when you're on the go.
FUN CAMERA GIFTS: These are just cute camera-related gifts that would make any photog smile. My personal favorite may be the "Oh Snap" bag, but that's just because it also comes on a onesie

FASHIONABLE AND FUNCTIONAL:
Fingerless Gloves: If you shooting in the cold, you'll want a pair of fingerless gloves. If you're sitting at your desk on a cool morning and want a little warmth, you'll want a pair of fingerless gloves. Tons of colors – various warmth levels. A perfect gift!
Custom Camera Strap: Why stick with the boring old black camera strap when you can have one with style!
Coffee Mug: Coffee mug? What's so special about a coffee mug? This one actually keeps your coffee HOT! I can't tell you how many times I've made myself a cup of coffee or tea and then sat down to do a little editing. Before I know it, I've completely forgotton about my drink and it's gone cold. This mug has a lid and stainless steel double wall interior (read: warm drinks). Note – they also make a travel version!>